Jacky Tsai X Genting Dream Cruise Ship
Tsai creates new visual narrative for Genting Dream's hull
01st Nov 2016
Hong Kong
In 2016, Tsai was asked to be involved in an exciting collaborative project that would see his artwork produced at it's largest scale yet: on the hull of luxury cruise liner 'Genting Dream' - Hong Kong based Dream Cruises' inaugural ship, purpose-built for the Asian market.
Measuring 335 metres in length, the giant-sized piece, titled 'Voyage of a Lover's Dream', appears in two parts, occupying both the port and the starboard sides of the vessel.
As with the majority of Tsai's works, 'Voyage of a Lover's Dream' tells a story, this time of an ethereal and fantastical journey of love between a mermaid and an astronaut. With one appearing on one side of the front of the ship and the other on the opposite side, both characters appear to be floating towards each other in an anticipated meeting at the bow.
In his signature graphic collage style, Tsai fuses nautical imagery with Chinese botanical symbolism to create a vibrant seascape of fuchsia pink, ultramarine blue and tangerine, perfectly fitting for its somewhat unusual yet awe-inspiring 'canvas'.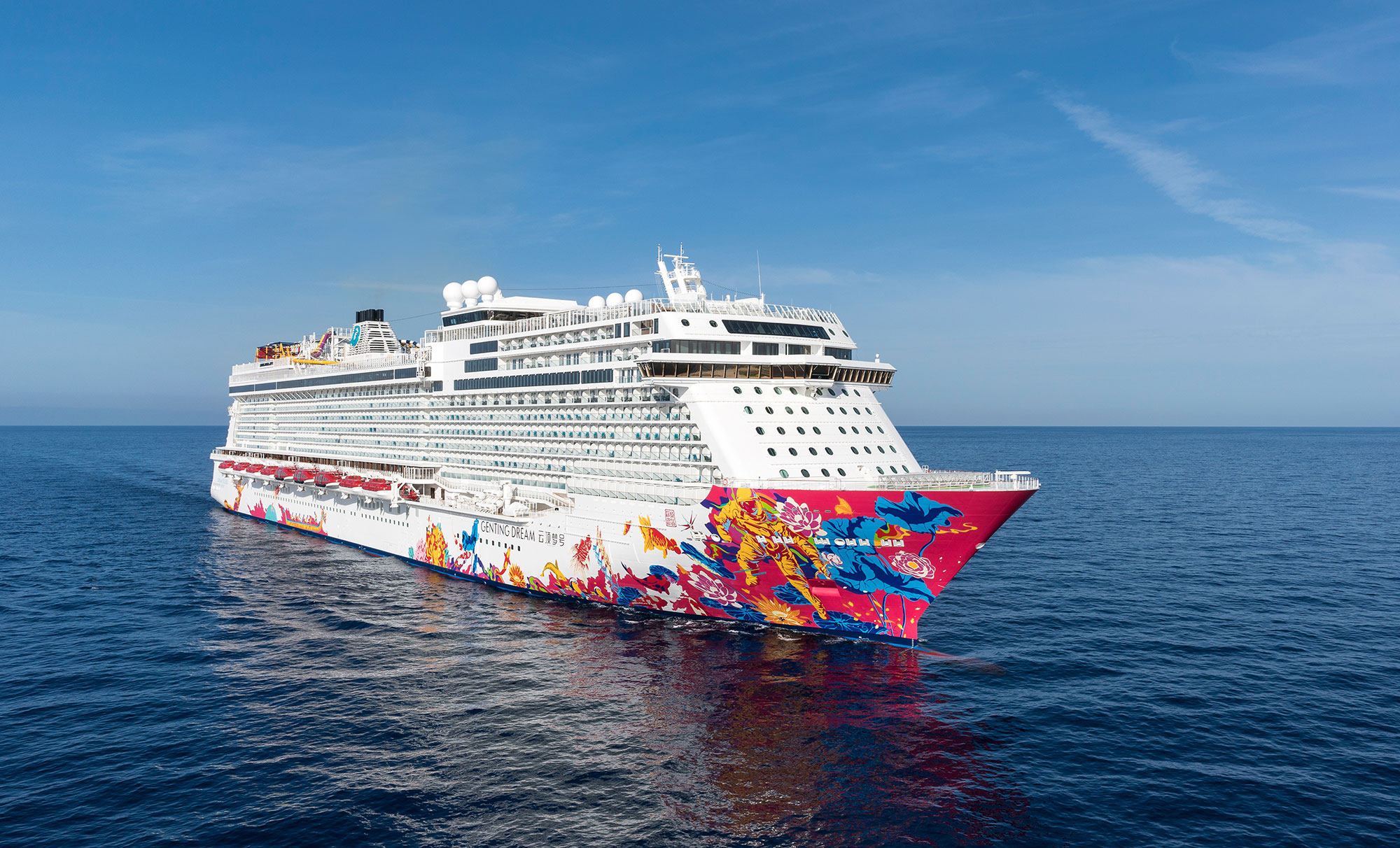 Speaking about the collaboration, Dream Cruises president Mr. Tatcher Brown said he was "delighted to have worked on this creative collaboration with Jacky. Genting Dream is purpose-built to meet the large and ever growing demand for inspirational vacation experiences from discerning customers across China and the Asia region. We want guests to fully emerge themselves in a truly unique and refined experience and wanted to reflect this in a highly visual interpretation - which led us to art as the ideal medium".
"Jacky's East-meets-West artistic aesthetic and vivd dream-inspired creative work embodying the boundless elements of space and water, has been brilliantly translated in a highly transformative way".
In addition to the artwork appearing on the outside of the ship, Tsai also created an acrylic and gold-leaf on canvas work of the same image, which was displayed onboard for clients to enjoy on a slightly smaller scale from inside.
Genting Dream debuted from her homeport of Guangzhou (Nansha) in November 2016 and is amongst the largest and most spacious cruise ships in Asia, with a 2000-strong crew, 35 restaurant and bar concepts and a 610-metre wrap around promenade for dramatic sea-side dining and lounging.