Jacky Tsai Debuts MetaSkull NFT Collection at the Digital Art Fair Xperience 2022 in Collaboration with Froyo Games

24th Oct 2022
HONG KONG OCT 24TH 2022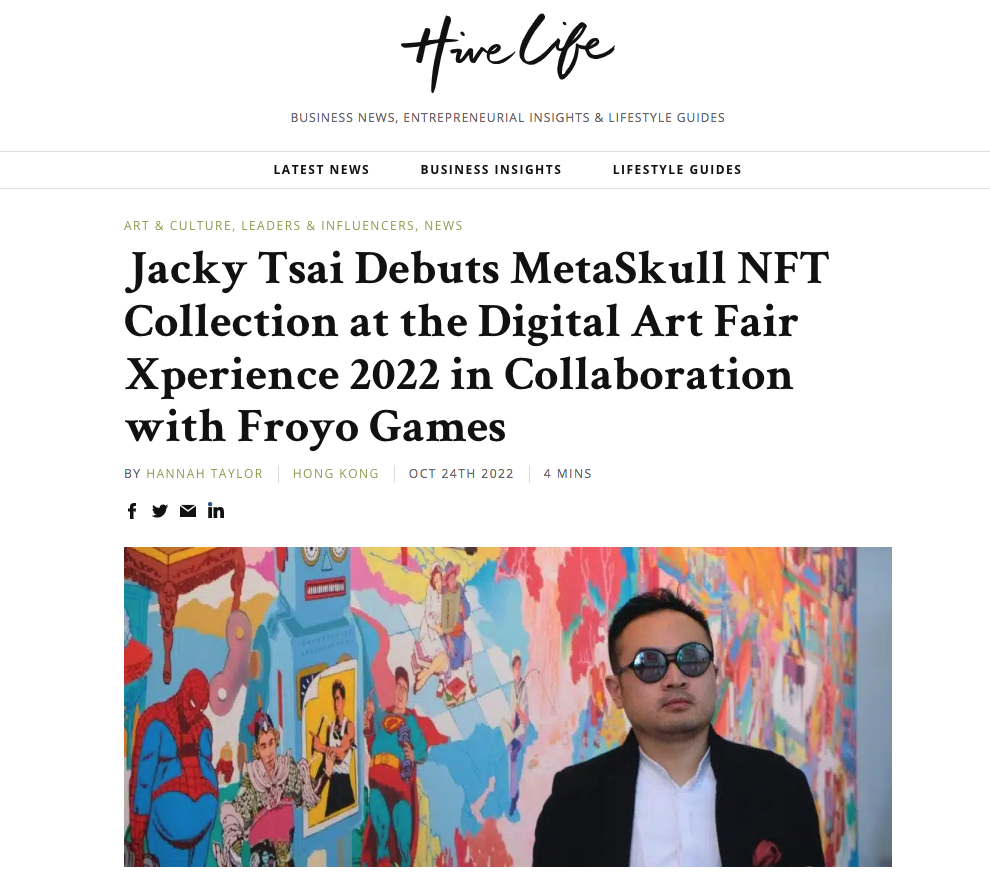 Internationally acclaimed artist Jacky Tsai speaks on his MetaSkull Collection in collaboration with Froyo Games alongside his other monumental contemporary digital artworks featured at the Digital Art Fair Xperience Hong Kong 2022.
London-based and Shanghai-born modern contemporary artist, Jacky Tsai debuted his NFT "MetaSkull Collection 元宇宙骷髏" at the Digital Art Fair Xperience Hong Kong 2022 on Thursday, the 20th of October, the first of 1,001 unique digital assets which will be auctioned by Sotheby's. Featuring Jacky's iconic skull motif designs, his inaugural collection was developed and launched in collaboration with Vietnam-based Web3 gaming platform Froyo Games.
Digital Art Fair also awarded Jacky the prestigious "Digital Artist of the Year" title in recognition of his thought-provoking artworks and iconic career.
Hive Life caught up with Jacky at the Digital Art Fair Xperience as he spoke on his debut collection, the concept behind his exhibited works, and how he is merging the East and West, traditional and contemporary, through his mesmerising multimedia creations.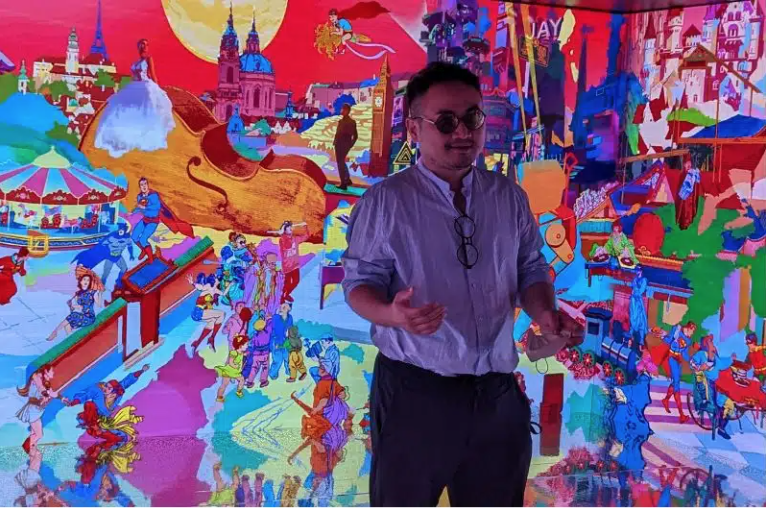 "I am thrilled to present my digital art masterpieces in their various forms and bring new perspectives on my art to the digital audience. The launch of MetaSkull expounds on humanity's differing views on death, as it highlights shifting attitudes towards life and how our choices ultimately influence our journey toward the inevitable end. I relish seeing immersive digital art in the metaverse as I embark on this next phase of artistic expression," said Jacky Tsai.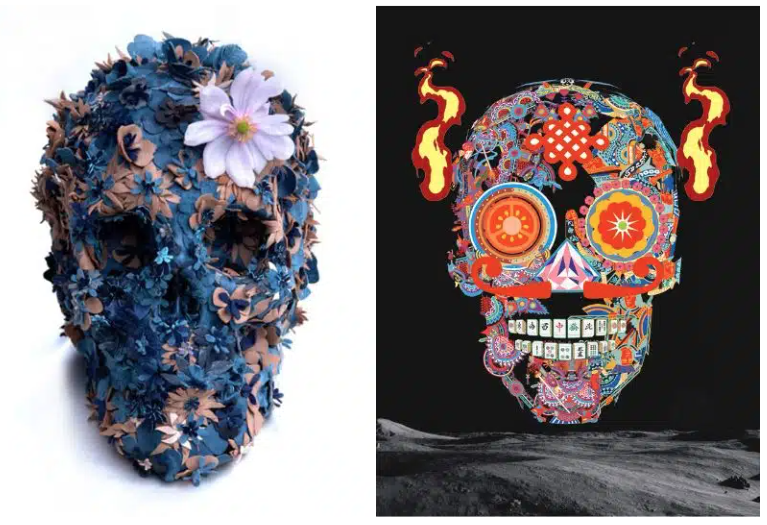 Jacky had been preparing his MetaSkull Collection for three years, so when Digital Art Fair reached out to him to award him as the Digital Artist of the Year, "It was amazing to have this opportunity to reveal the MetaSkull project for the first time- it was perfect timing."
The artist first gained international renown when the late Alexander McQueen adopted his signature floral skull designs for his 2008 spring/summer menswear collection. Other notable collaborations include Martell, Shanghai Tang, Harvey Nichols, and Lane Crawford. Jacky's first NFT, "Chinese Floral Skull, Lot 37," was sold in a Sotheby's auction in 2019 for US$302,400, the highest price for an NFT designed by an Asian artist at the time.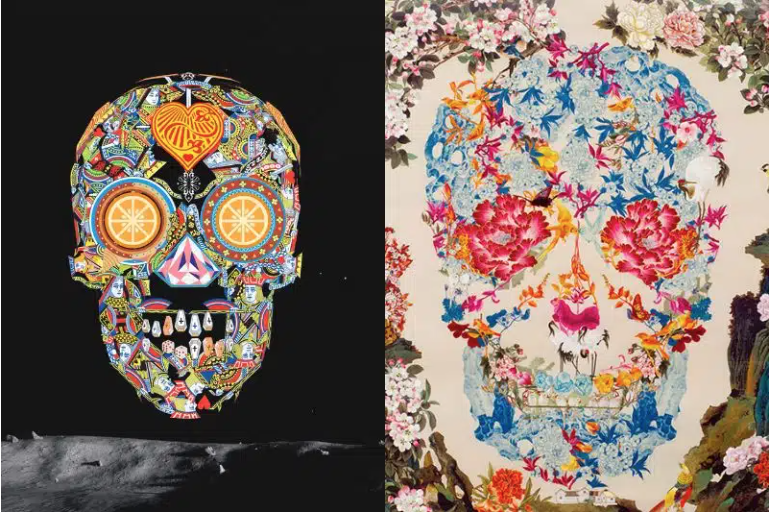 Focusing on the themes anti-war, gambling, and poker, aiming to dispel the notion of fear and negative attitudes towards death amongst Chinese communities, the MetaSkull Collection was developed through a generative art technique and is 3D in nature. Fusing Eastern art techniques with Western pop art messages, Jacky's works transcend cultural and contextual boundaries.
"This year, we are going to auction off one piece for the MetaSkull project, but for the rest of them, the other 1,000 unique NFTs, we are going to release them next year. The first one is really the highlight [NFT], to make people aware of this great projects," Jacky added.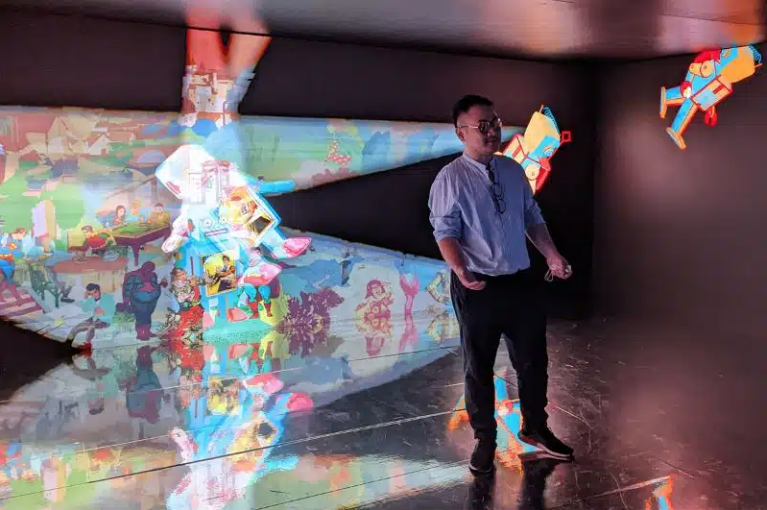 Jacky's unique skull design represents the beauty of regeneration and rebirth, expanding on different interpretations of skulls in both western and eastern culture.
The MetaSkull Collection's first NFT features a unique skull design, moon-themed terrain, and a flying avatar, displayed on a transparent LG screen at Digital Art Fair, representing Jacky's his journey into the limitless Metaverse, echoed by his character's exploration of the moon and the greater universe. The Sotheby's auction will run from the 20th to 28th of October online, where the first MetaSkull NFT alongside other works by Jacky will be available for bidding.
Collaborating with renowned crossmedia artist from Hong Kong, Victor Wong, the duo created an immersive room in the "Immersive Zone" of the Digital Art Xperience, bringing Jacky's works to life accompanied by music, and some artworks inspired by, Taiwanese singer-songwriter Jay Chou.
Jacky commented, "Victor Wong is the master behind this immersive show. The immersive show is probably the most eye-catching artwork this year at Digital Art Fair. We spent a lot of time on it, but the results are so beautiful. The reason why I [created] this immersive room, because I really wanted to show the real quality of Asian digital art- we really wanted to set a standard."
Backed by strategic investors including Animoca Brands, GBV Capital, and The Spartan Group, Froyo Games enables gamers to interact with Web3 games and NFTs seamlessly on a single integrated platform.
Aiming to democratise game art to be accessible to the widest audience possible, Froyo Games has launched a Whitelist Pass campaign for the MetaSkull Collection, which is available for sale at 0.08 ETH, to 300 holders. Each Whitelist Pass holder can enjoy minting priority for 1 MetaSkull NFT when the collection is launched to the public.
Jacky's digital and physical art installations will be exhibited at the Digital Art Fair Xperience in Hong Kong from the 20th of October to 6th November. Ticketing and more information can be found here.
–
More Information:
https://hivelife.com/jacky-tsai-metaskull/