20 questions with… Jacky Tsai

16th Dec 2018
Presenting everything you need to know about the man behind the famous floral skull designed for the late Alexander McQueen
By Poppy Malby
16 December 2018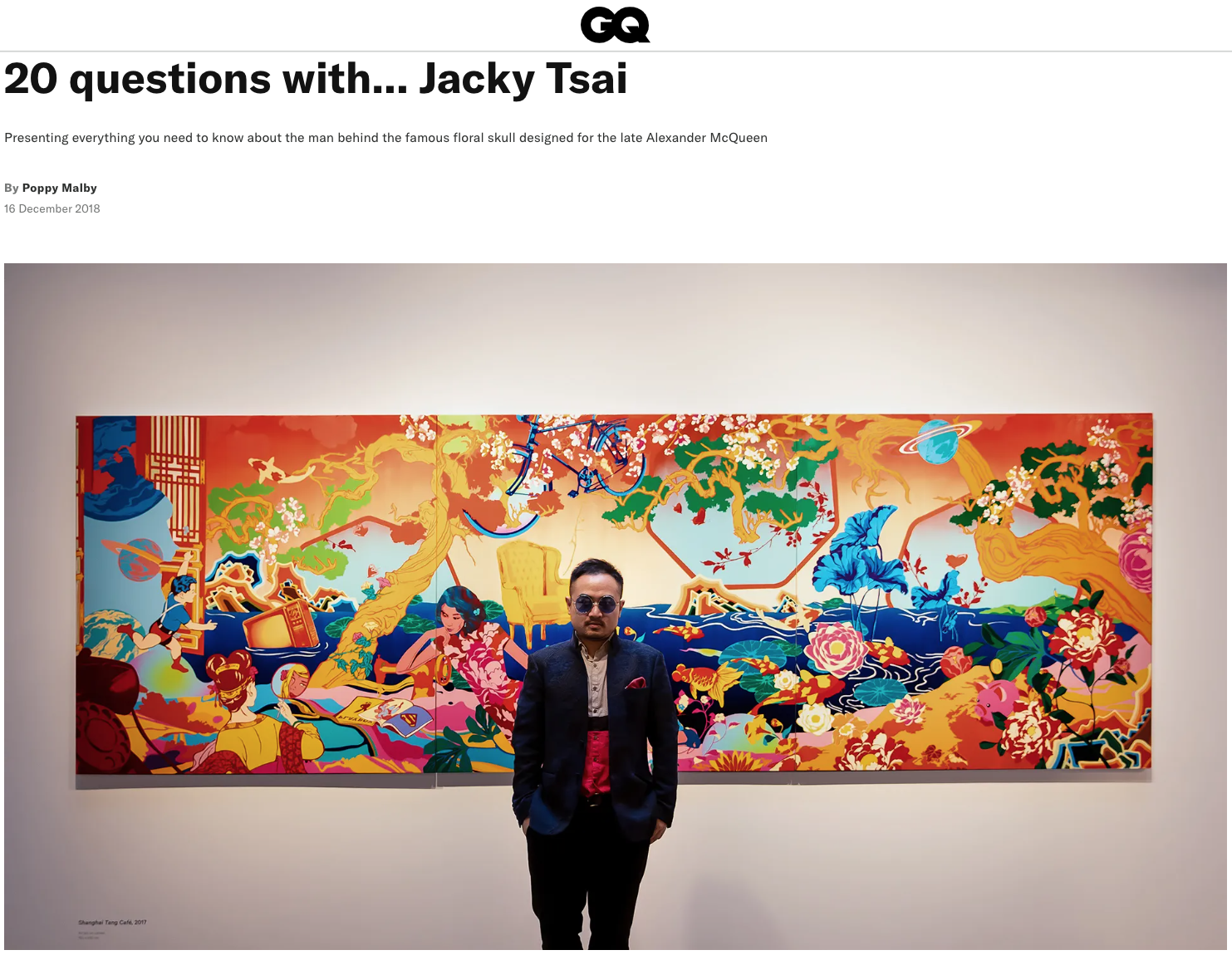 Born and bred in Shanghai and heavily influenced by artists such as Andy Warhol and Roy Lichtenstein, Jacky Tsai's work focuses on the combination of traditional Chinese craft with Western pop iconography. Tsai is most well known for the creation of the famous floral skull created for the late Alexander McQueen, which is where Tsai's connection between spirit and pop culture becomes evident. The imaginative and repetitive use of the skull motif hints at the Chinese symbol of fear and superstition. However, mixing these "Skullptures" with floral patterns and and all things Mother Nature really brings out the charm in human decay. In fact, Tsai sees "the skull as a symbol of opportunity for new beginnings, rebirth from death".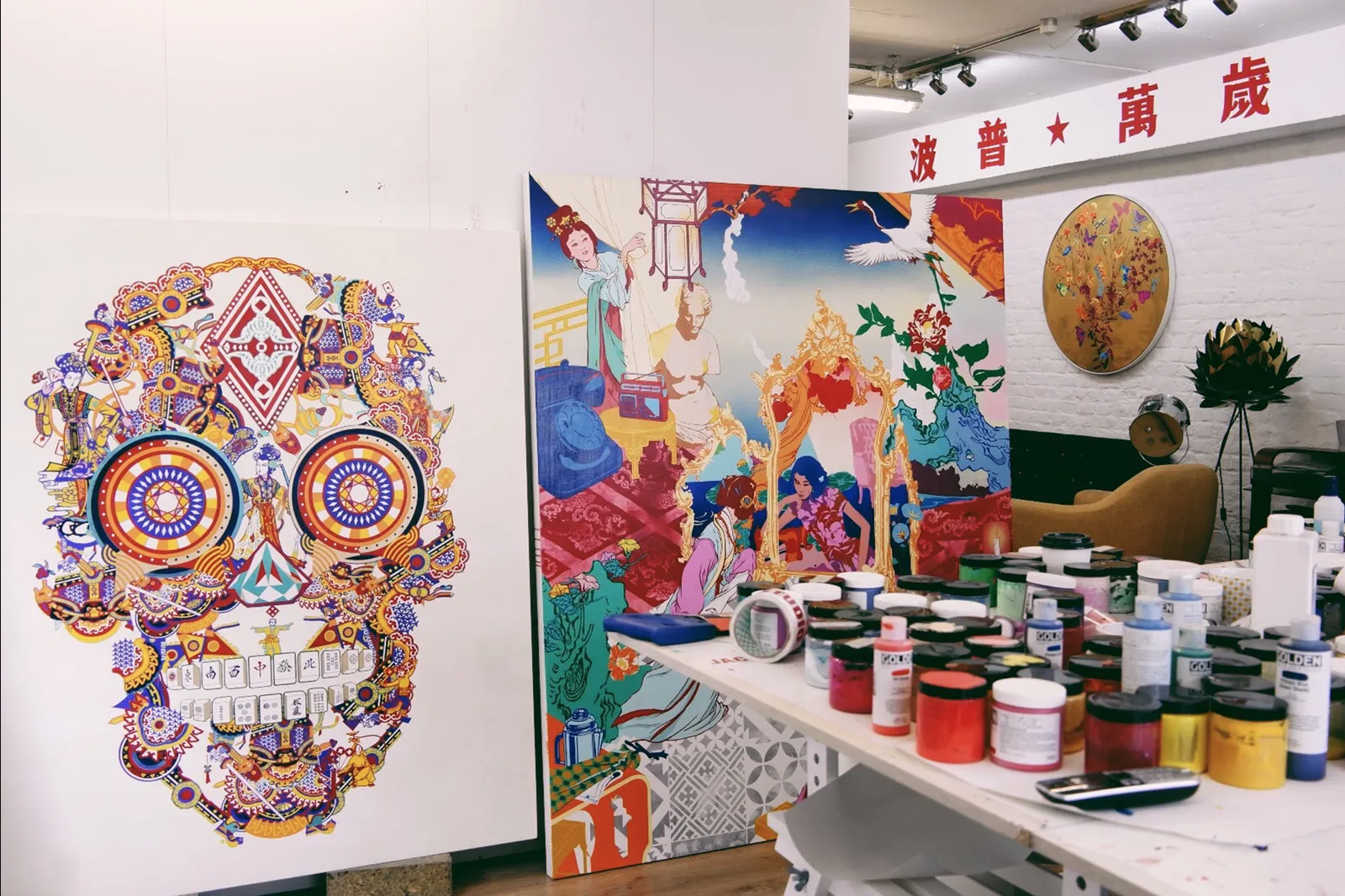 Tsai's signature kaleidoscopic aesthetic is what defines his work and has encouraged Tsai to launch his own fashion brand, since working with Harvey Nichols and Shanghai Tang. This interview allows you to meet the real Tsai behind the modern yet traditional Chinese lacquer carvings. Keep reading to find out what is currently on his playlist and who he dreams of collaborating with. If you also want to explore Tsai's work further, be sure to catch the last few days of his first, and biggest, solo show, which runs until 22 December at Unit London.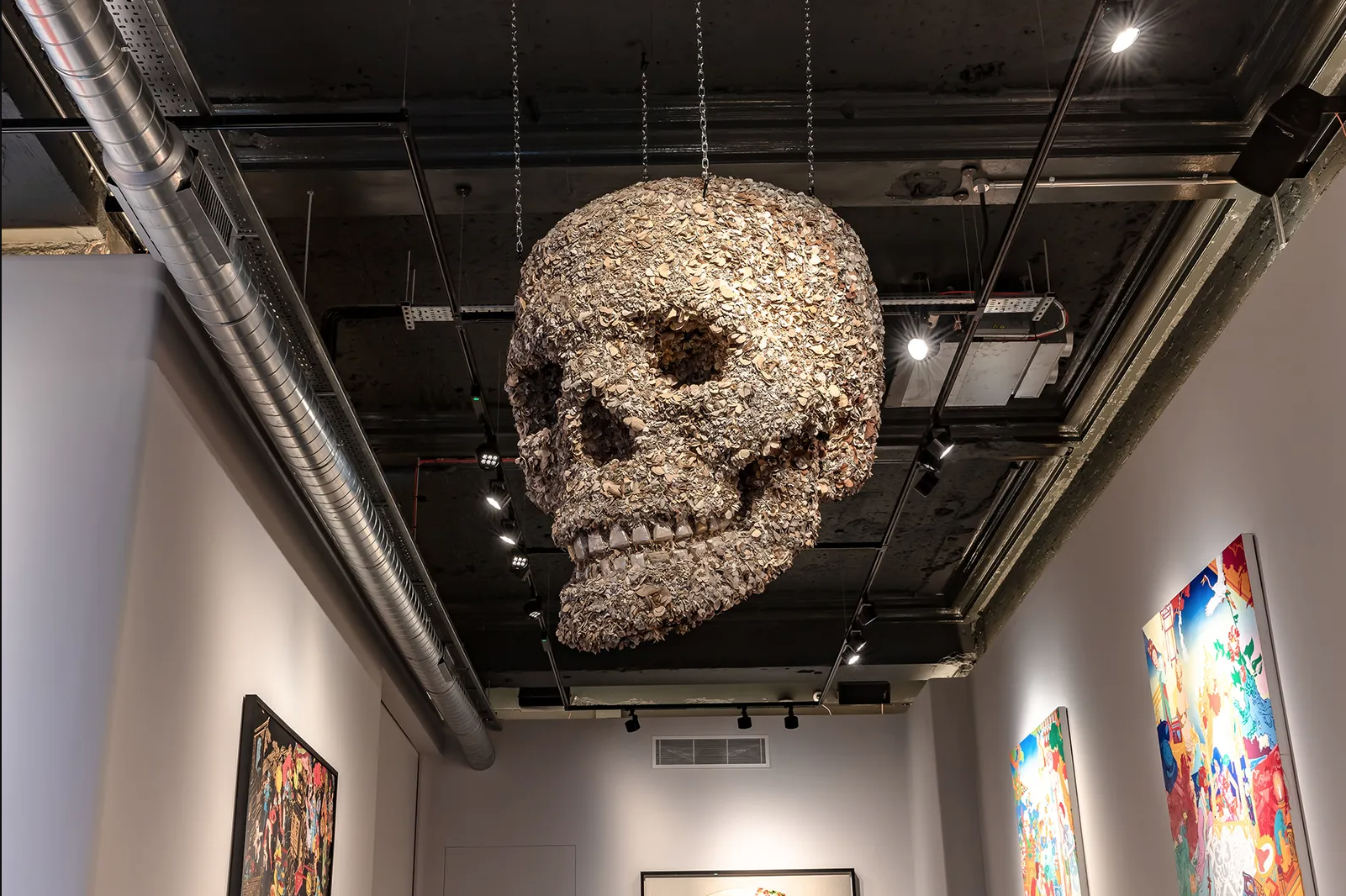 **1. Where were you born? **
I was born in Shanghai, the most beautiful city, in my view.
2. What did you want to be when you were growing up?
When I was younger I wanted to be a pop singer.
3. What is the best piece of advice you have ever received? What is the worst?
The best and worst advice I have ever been given are the same: to move abroad from Shanghai to London.
4. Who is the one person, dead or alive, that you would like to have dinner with and why?
Roy Lichtenstein: he has influenced my aesthetic massively.
5. Where is your favourite place on this planet?
My hometown, Shanghai.
6. What is your phone screensaver at the moment?
At the moment, my phone screensaver is my artwork – a mermaid flying out of the earth.
7. What is currently on your playlist?
Non-stop repeat of all the songs from Jay Chou.
8. What are your last three Google searches?
"Arsenal", "Reincarnation" and "La Mer".
9. What gives you inspiration?
Daily life gives me inspiration, no matter how good or bad.
10. We all love a movie night, so what is your favourite film of all time?
Shawshank Redemption, definitely. I've watched this movie more than 50 times.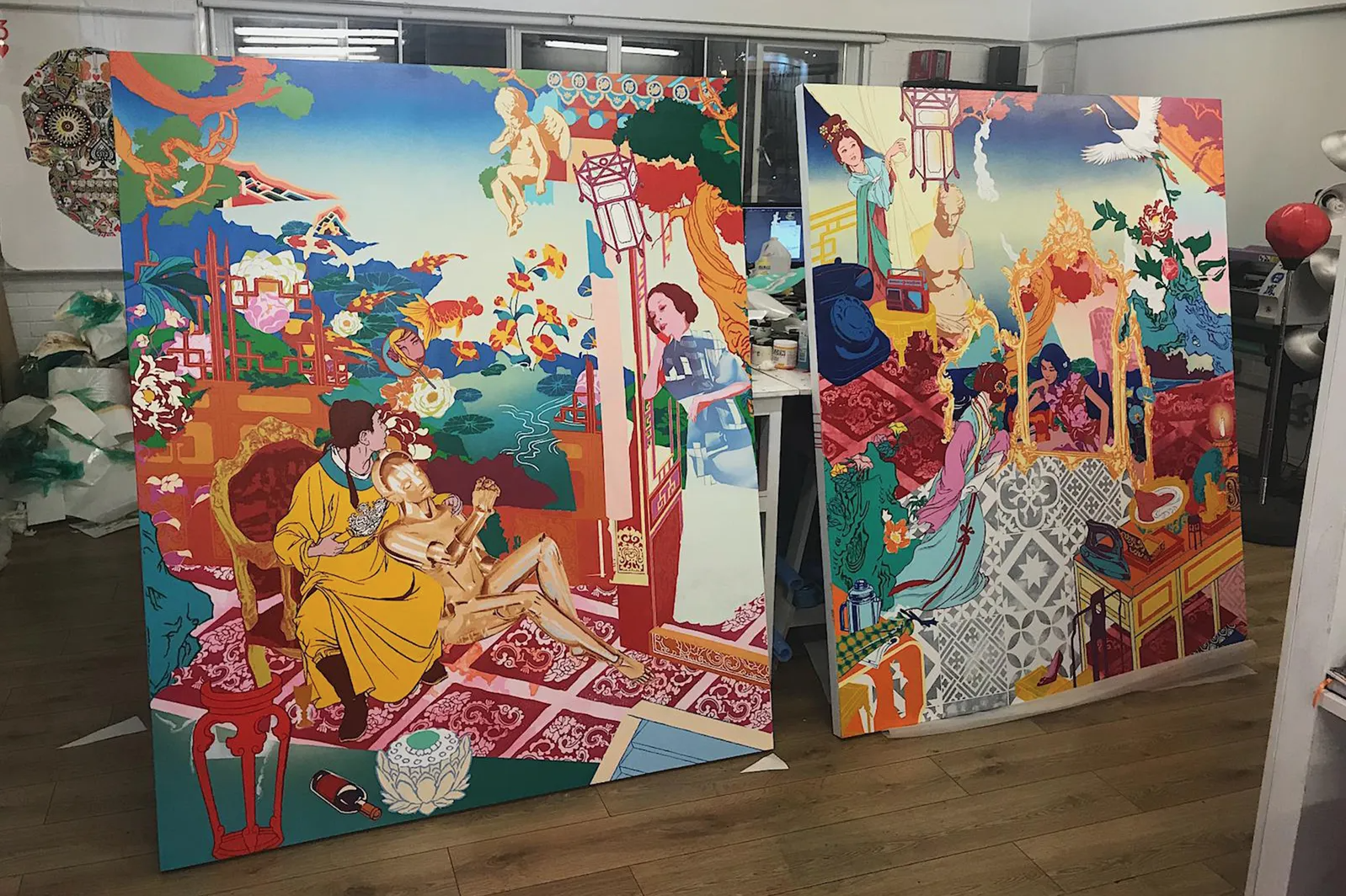 11. What is your favourite art gallery in the world and why?
At the moment, I have to say [GQ's] neighbour, Unit London, because I'm having my largest solo show there.
12. If you could collaborate with anyone, who would it be and why?
I would like to collaborate with Elon Musk. The reason is because I have done the hull artwork for Genting Dream, the first cruise vessel for new Asia-based cruise line Dream Cruises, and I have planed to decorate the Eastern & Oriental Express next year. It's time to dream about decorating the rocket.
13. What is your favourite sandwich filling?
I would have to say tuna and sweetcorn: the most suitable filling for Chinese, in my personal opinion.
14. If you could visit any artist's studio, whose would you visit and why?
I would like to visit Julian Opie's studio, as it's so close to my Shoreditch studio. I really want to sneak in but the door is always locked.
15. What was the last thing you bought?
An oat latte to boost my energy.
16. What is your favourite piece of clothing you own?
A retro bomber jacket with the American Air Force Forties Flying Tigers logo.
17. What is hanging on your walls at home?
My artworks. It is too expensive to hang up other artists' works.
18. What is one staple item all men should own?
A cool set of headphones, especially in the cold winter.
19. What is your favourite cartoon and why?
I'm a big Dragon Ball fan, because I am always in super-Saiyan mode in my life.
20. So, what is the next for Jacky Tsai?
To make a masterpiece. A 180cm x 600cm artwork for a special collector, a huge idol of mine.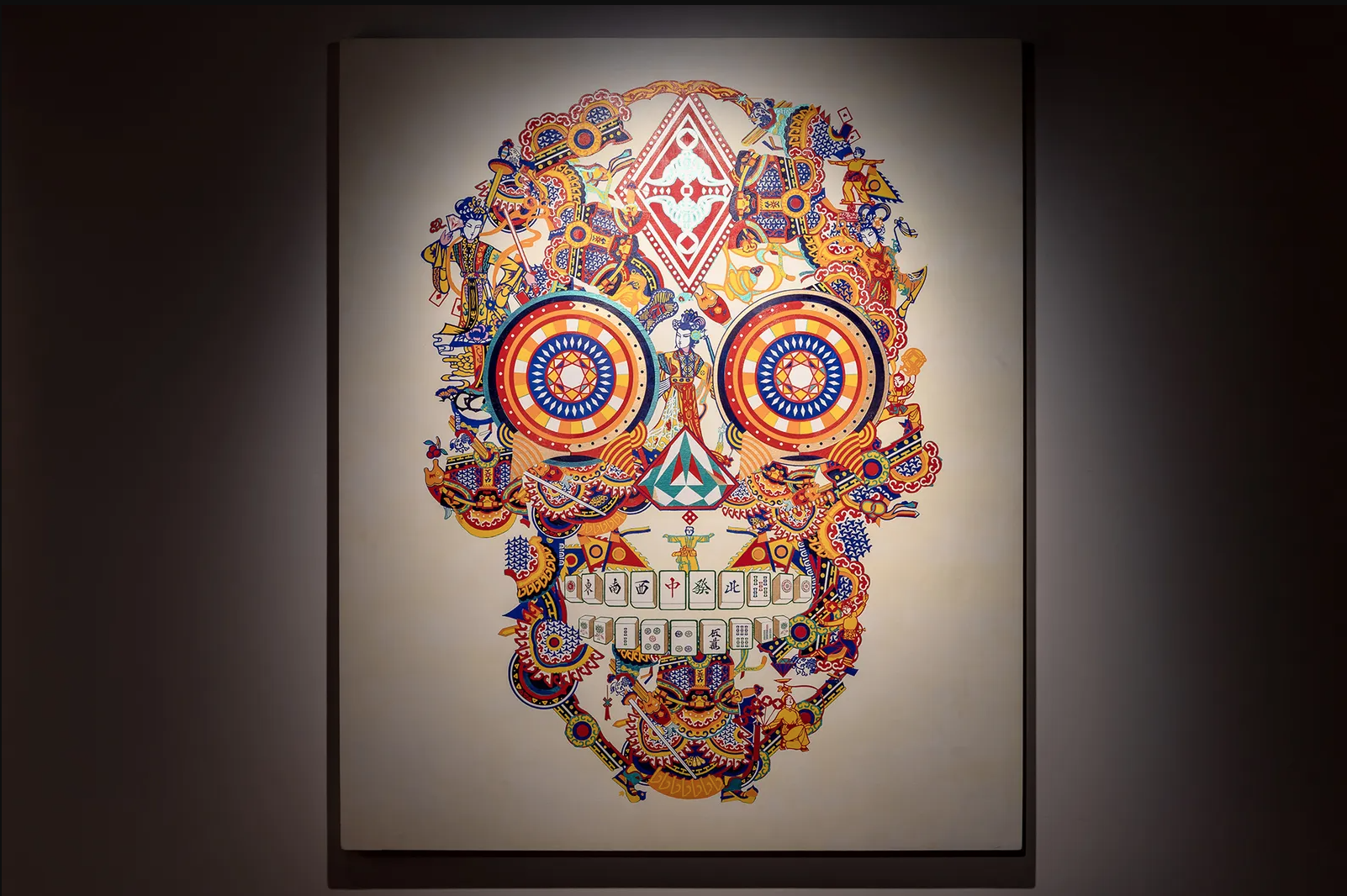 --
More Information:
https://www.gq-magazine.co.uk/article/jacky-tsai-interview-2018