Future Past, London
The Fine Art Society, London
30th Sep 2015
September 2015 saw the opening of 'Future Past', Tsai's first solo exhibition at The Fine Art Society in London's renowned New Bond Street. A highly anticipated show, it was to be one of Tsai's most prestigious to date and included an impressive collection of new original lacquer carving works as well as introducing Su Xiu embroidery as a new medium for the artist.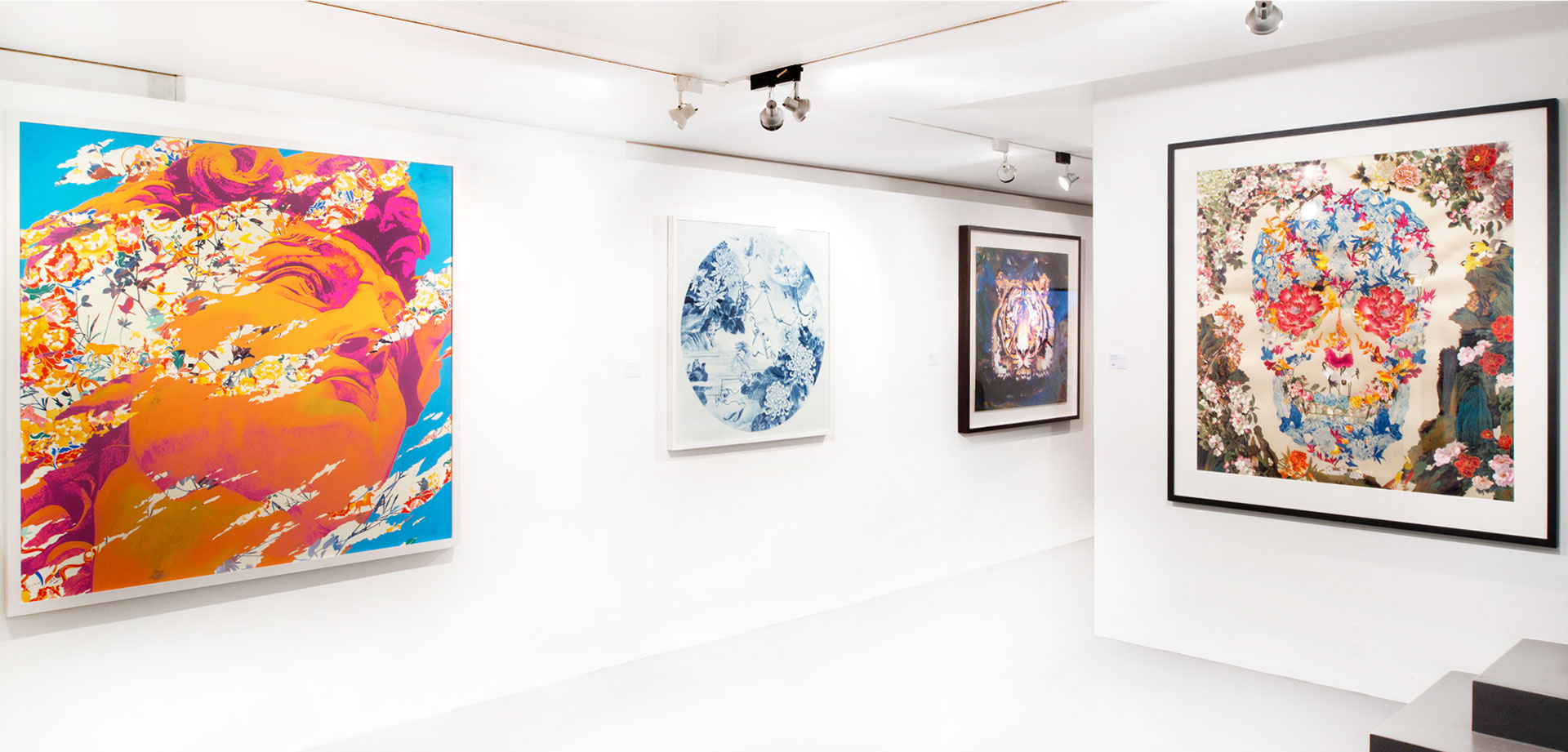 The main body of work Tsai created for 'Future Past' saw him continue to explore the connections and disparities between Eastern and Western culture through a series of new spectacular lacquer carvings. In these works, superheroes such as Superman, Wonder Woman and Captain America embrace, fight and play with characters from ancient Chinese literature such as the Monkey King and pig man Zhu Bajie, usually set against traditional Eastern-style landscapes, as Tsai builds individual narratives for each piece, encouraging the viewer's gaze and feeding their imagination.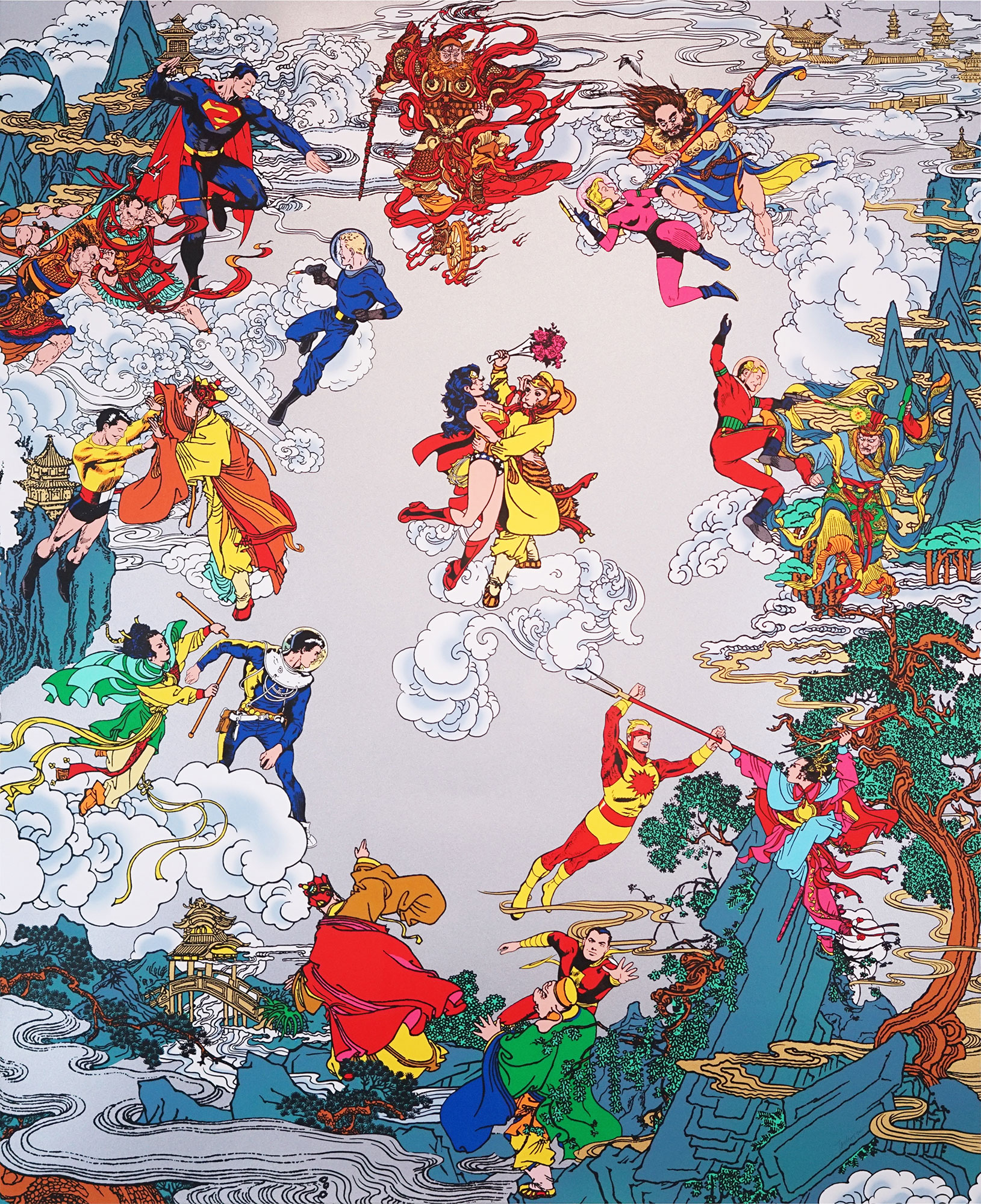 For example, 'The Affair To The East' (2015), is a love story between the Monkey King and Wonder Woman. As the couple hold each other in the centre of the piece, characters from the east fight with those from the west in the borders of the frame, suggesting their disapproval. In 'The Erotic Dream of the Red Chamber' (2015), a blind-folded Superman is circled by alluring Eastern women in traditional dress as Jia Baoyu, the principal character from classic Chinese novel 'Dream of the Red Chamber', known for his love of women, looks on jealously with sword in hand as the women ignore his presence.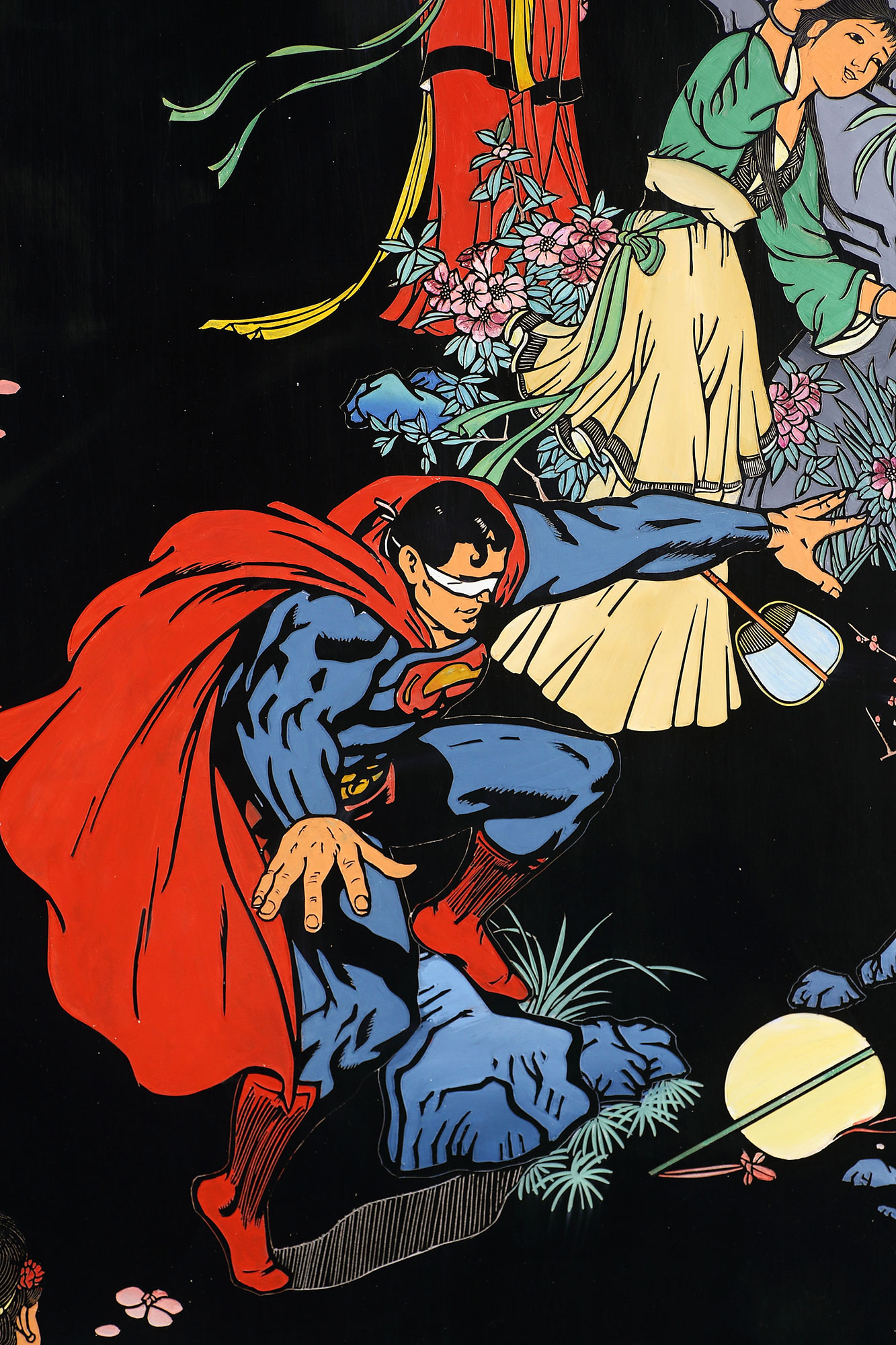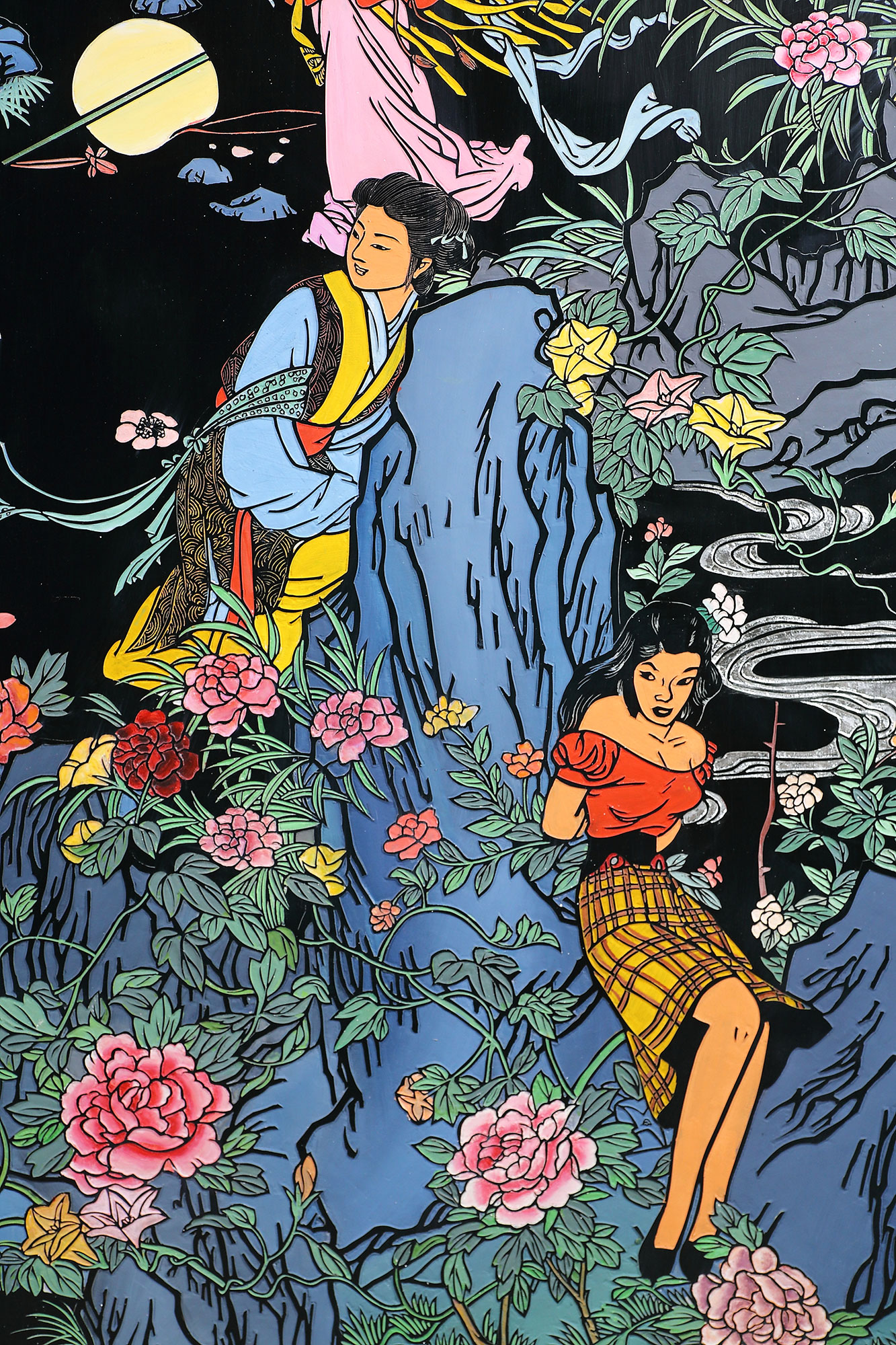 Filled with energy, these new works marked a turning point for Tsai, and the modern Western superheroes and historic Chinese legends went on to be the focus of many more lacquer carvings to come, as well as limited edition screen prints.
Tsai's iconic skulls also made an appearance in the exhibition, and included was the impressive large-scale Suxiu embroidery work 'Chinese Floral Skull' (2015). A new medium for Tsai, it was the first time he had exhibited an embroidery piece in London, and it took centre stage at the show, gaining much positive recognition. Other mediums explored included cloisonné, in the form of 'Cloisonné Skull' (2014), and porcelain in the form of 'Chrysanthemum Play' (2015).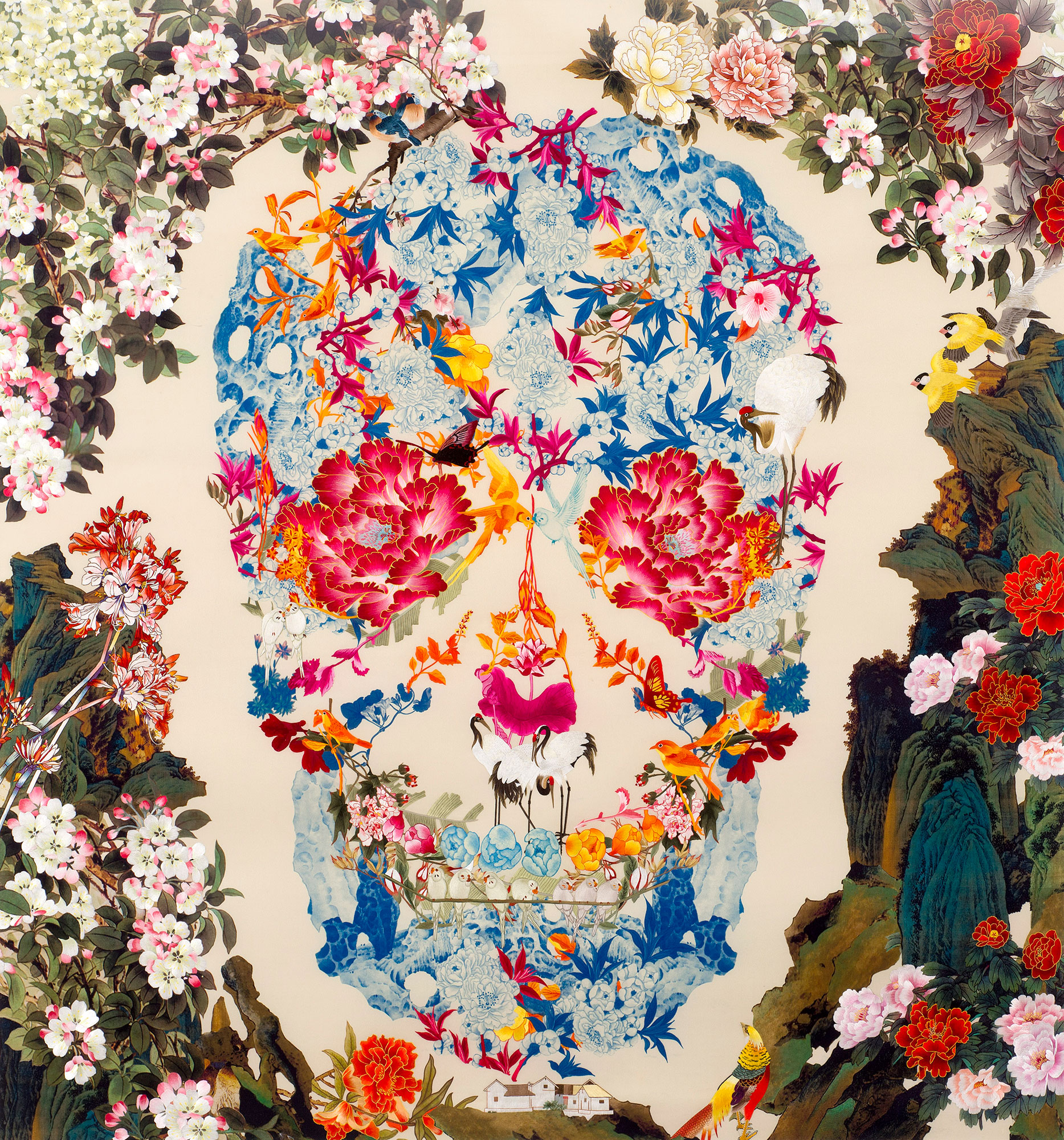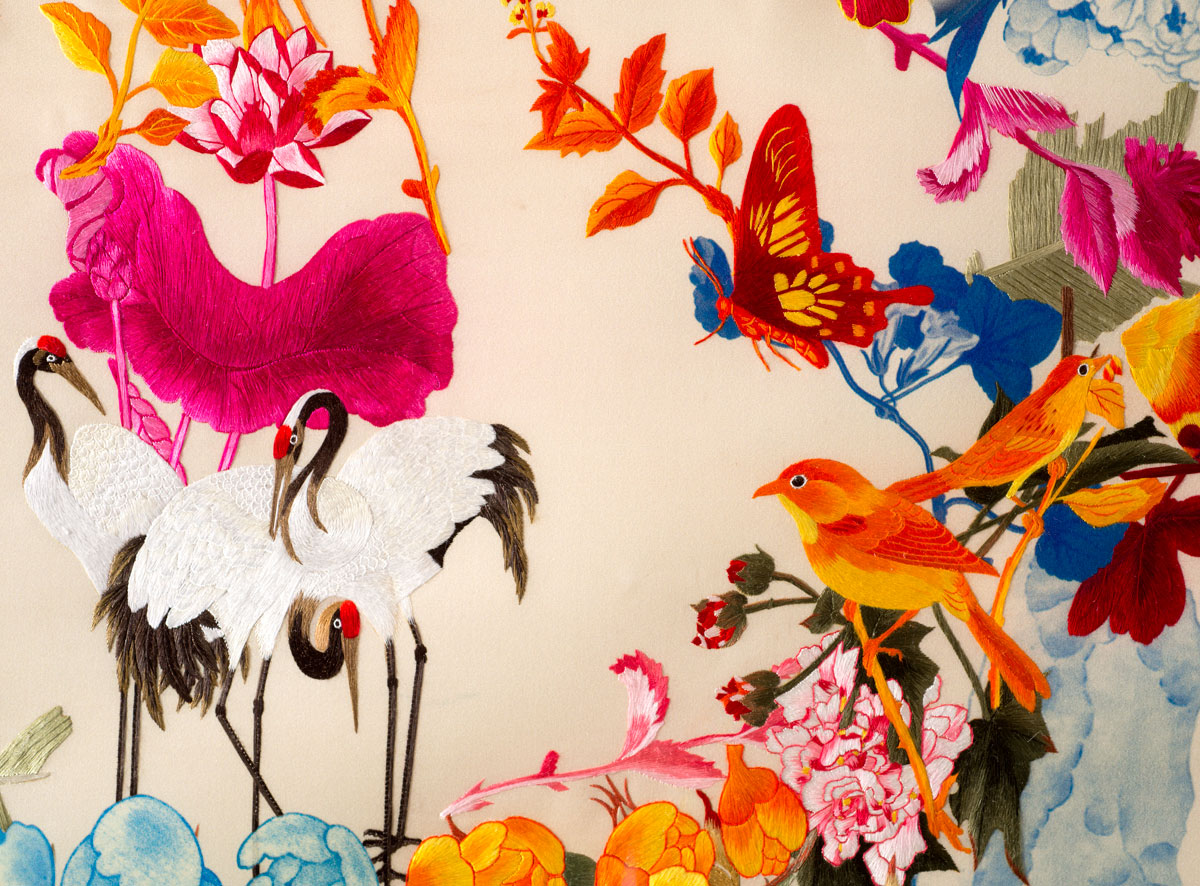 Spanning over two floors of one London's oldest galleries, 'Future Past' took place in partnership with Hong Kong based fashion brand Shanghai Tang, for whom Tsai made a series of works for during a collaborative project in 2014.
The Fine Art Society was established in 1876 and is one of the oldest fine art dealerships in the UK. Based in London and Edinburgh, the gallery has historical links to many of the most influential British artists of the 19th and 20th centuries. In 2005, the contemporary programme was established, adding a progressive dimension and increasing cross-cultural links, particularly in Asia, the US and Australia.
—
More information:
https://thefineartsociety.com/exhibitions/30/overview/
https://www.wallpaper.com/art/war-of-worlds-jack-tsais-intricate-culture-clashes-at-the-fine-art-society